Truck Bed Cargo Rack Truck Ladder Rack w/o Factory Utility Tracks (Most Commom Truck) - u-Box
Like to Join in Discount List
Save

17

%
Original Price
$1,199.99 USD
Current Price
$999.99 USD
Name: Truck Bed Cargo Rack w/o Factory Utility Tracks

Feature:

Fit for the Most Common Trucks Without Factory Utility Tracks. Except for Toyota and Nissan Trucks, which have Factory Utility Tracks. For Toyota and Nissan Trucks, We Have Designed the Special Mount Adapter Kit.
Product weight: About 88 lbs
Not Compatible with Tonneau Covers
Adjustable Height from 18.7" - 23.5" (the height from the platform of the bed rail to the bottom of the crossbars). Width is adjustable to fit a variety of truck bed sizes.
Adjustable height to create custom set-ups for maximum utility and versatility. Carries Luggage from snowboards, kayaks, surfboards, bikes, rooftop tents, lumber, and more.
T-Slot Attachments Make Adding Gear Mounts and Accessories Fast and Simple.
Multifunctional Adjustable-Height Luggage Bed Rack
Integrated Tie Down Points that Allow You to Secure Your Load with Ratchet Straps or Bungees.
Maximum On-Road Rating of 800 lbs. Maximum Off-Road Rating of 500 lbs
Integrated Tie Down Points that Allow You to Secure Your Load with Ratchet Straps or Bungees.
Reinforced Structure with 4 Adjustable Bed Side Bars. Each Side is Equipped with 2 Side Bars and Creates the Ultimate Truck Bed Cargo Management System by Adding These Telescoping Bars.
The T-slot Attachments Make Adding your gear mounts and options simple. Accepts T-Slot accessories like Eye Bolts, Recovery Track Mounts, RotoPax Mounts, and Tool Holder(Not included).
The Adjustable Side Bars are Extendable from 31.1" to 59.8"
Heavy-Duty Aluminum Alloy Construction and Durable Textured Black Powder-Coat Finish
Simple Bolt-on Installation Using Our Clamp Mounting Design. No Drilling or Modification is Required. Equipped with Premium Stainless Steel Screws Kit.

Package Included:

1 x Bed Rack Assembly
Mounting Hardware Kit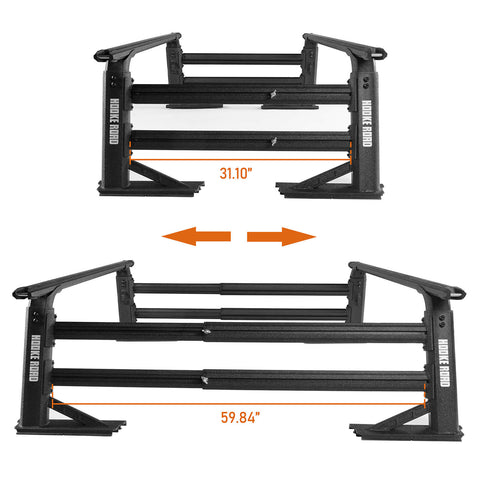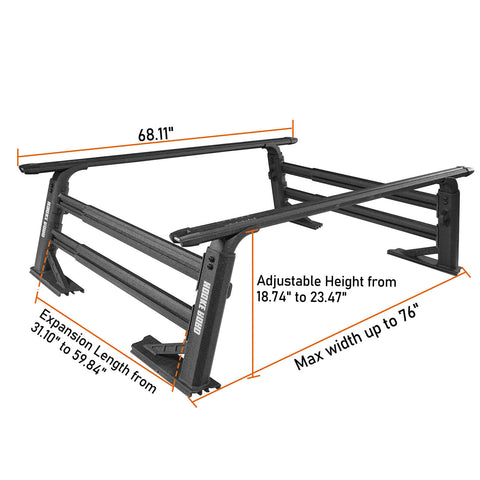 Versatile Rack with Adjustable Height. This Hooke Road Rack is versatile yet practical for all your truck needs. You can simply carry many accessories such as bike rack, rooftop tent, load stops, eye bolts, ladder roller, recovery track mount, hook straps, rotopax mount, and tent so you can accessorize to the max. Offering integrated tie-down points for load security and T-slot attachment technology to easily add gear mounts. This Rack boasts an adjustable height from 18.7-23.5" to create custom set-ups for maximum versatility. Allowing you to get the extra height needed to clear the cab for that longer canoe, surfboards, and construction materials. Also a great choice for mounting a tent. Customize the height quickly to fit your daily needs and overland adventures.

Premium Aluminum Construction. These Hooke Road Bed Racks are engineered aluminum construction. Keeping them lightweight while strong for those heavier loads. These stout crossbars are built to last and finished with a durable black powder coat.

Quick & Simple Removal. Once completely assembled and installed the Hooke Road rack system can be easily removed. Simply loosen the center bolt at each tower to remove the rack assembly. You can keep the base in place on your truck bed to reinstall later when needed.

Direct Bolt-on Installation & No Drilling Required. The bed rack is a complete bolt-on installation. A detailed instruction manual could guide you to assembly all the parts onto your truck bed. Some adjusting is required to complete an accurate installation and make the bed rack sturdy. There is no drilling or modification is required. Some basic hand tools are needed. It takes about 2 hours to finish the installation with the help of a partner.