Spare Tire Delete License Plate w/ Plate Illuminate Light & Third Brake Light (07-18 Jeep Wrangler JK)- u-Box
Like to Join in Discount List
Sold out
Original Price
$159.99 USD
Name: Spare Tire Delete License Plate Relocation Kit w/ Plate Illuminate Light & Third Brake Light
Feature:
Fits 2007-2018 Jeep Wrangler JK Models
Spare Tire Delete Rear License Plate Bracket Kit
Deletes that Cumbersome Spare Tire and Makes Your Wrangler Lighter
Equipped with 2 Water-Proof LED License Plate illuminate Lights
Equipped with a LED Third Brake Light
Unique classy Styling
Includes License Plate Mount
Comes with a Mounting Bracket for a Proper Backup Camera While You Have Daily Use with the Backup Camera. (Notes: Please Confirm the Mounting Holes in the Picture with the Mounting Parts on Your Aftermarket Camera. Professional Installation is Highly Recommended.)
Durable CNC-Formed Steel Construction
Black Powder Coat Finish
Moderate Installation Needs Some Wiring. No Drilling is Required. Reuses Factory Spare Tire Mounting Hardware
Package Included
1 × 

Spare Tire Delete Assembly
2 × License Plate Lights
2 × Wire Harness
LED 3rd Brake Light
Mounting Hardware Kit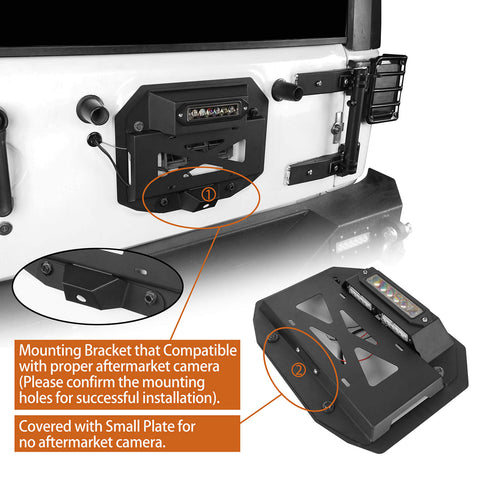 Enhanced Tailgate Appearance. Get rid of the cliché and dull plastic license plate that sticks out of the back on the drivers and replace it with Hooke Road License Plate Relocation Kit with Light. Designed for the off-road enthusiast, this plate relocation kit features a black powder coat that forms an appealing combination with your license plate. Additionally, it features water-tight polycarbonate LED lights that illuminate the light as recommended legally. The third brake light features super bright red LEDs that will be sure to catch the attention of distracted drivers.

Illuminate Your License Plate. This License Plate Relocation Kit features a durable, impact-resistant polycarbonate plate light and high-intensity LED bulbs that provide proper lighting for license plate visibility during the night. Other than that, it enhances the exterior appearance of your JK, especially if used with a stubby rear bumper or a high-clearance fender flare.

Moderate Installation. This is made to be a direct fit where the tire rack was. Remove the factory tire mount, then simply bolt on the tire delete plate and license plate mount without cutting, welding, or fabrication. You can reuse the factory spare tire mounting hardware and all of the required hardware is included. Then carefully connect the wires of the lights to the vehicle system. Detailed instruction is included. Please confirm the mounting holes in the picture with the mounting parts on your aftermarket camera. Professional installation is highly recommended. It should take about 2 hours or less based on your operation skill.